You know that moment when you're scrolling through the 'gram and something steals your attention….you stop, you've stumbled across a product, a brand, a person, a purpose – something that just takes your fancy? Well, we'll save you the scroll – we're thrilled to introduce you to the luminous Sarah from award-winning beauty brand 'By Sarah'. Sarah's all-natural, plant-based beauty brand was designed with heart, soul and a tsunami of sisterly love. By Sarah is inspired by Lauren's (Sarah's sister) recovery from leukaemia. With sensitive skin, Lauren needed something soothing, sensitive and natural and so By Sarah was born. We had the pleasure of hearing more from Sarah, founder of By Sarah;
You've created an all-natural beauty brand from scratch, amazing! Can you tell us a little bit about your background in the industry and how 'By Sarah' came about?
Skincare has always been my passion – from making skincare at home, to hosting skincare birthday parties and even presentations about skin at school; it's just my thing! But I was inspired to take my childhood hobby more seriously when I started to develop plant-based skincare blends to soothe my sister, Lauren's, sensitive skin following her recovery from leukaemia. I harnessed the insights I was acquiring whilst working directly on skincare and consumer brands for L'Oreal, Estee Lauder and Unilever (for almost 10 years), and turned to studying plant-based ingredients as an alternative to synthetic skincare. I began to formulate natural and organic skincare blends that nurtured Lauren's skin – and they worked!
You feature all the product ingredients on the front of your product labels, so they're easily accessible – why should we be more mindful about the product ingredients we're applying to our skin?
Skincare can be overwhelming and confusing. There is so much choice, so many brands vying for your attention with different claims and promises that sometimes you can overlook the very fundamentals of skincare: the ingredients inside. I could see there was a gap for greater transparency and authenticity in skincare, so by detailing a full ingredient list on the front label you are empowered with the knowledge you know exactly what you're putting on your skin – you shouldn't have to guess or feel confused when caring for your skin. This is a pretty ground-breaking decision in a traditionally less-than-transparent industry.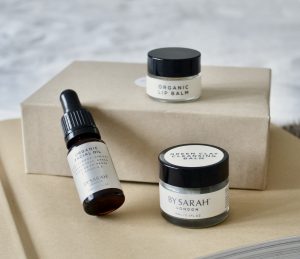 What specific nasties on labelling should be on the look out for and why?
Many mainstream, conventional skincare products contain ingredients to make them feel a certain way (like lathering into bubbles) or to prolong the shelf life (for many, many years in some cases). But these ingredients don't provide any benefits to your skin; and worse still, their properties are well documented to cause allergies and skin irritation and are harmful to our endocrine, respiratory and reproductive systems. So not only are you paying for skincare with cheap ingredients that don't provide any skin care benefits, but they can be harmful too. We have a brilliant article on our Journal that sets out the 5 of primary ingredients to avoid; which include propylene glycol, parabens and synthetic fragrance.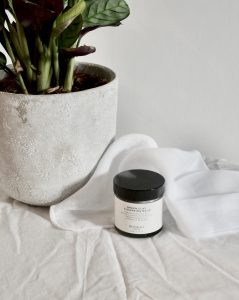 There's been a big shift towards more sustainable products recently, how is By Sarah responding to this?
We only use certified-organic and natural ingredients. When ingredients can be grown in soil, we only choose certified-organic ingredients as these have flourished under the strictest requirements of organic farming where synthetic pesticides, artificial chemical fertilisers, herbicides and GM crops are prohibited. We use glass jars and bottles, with no outer packaging for our products and no plastic. We use recycled and recyclable paper and cardboard for our delivery boxes. And we always encourage our customers to upcycle their jars and bottles after use! We also have a wealth of information on our Journal.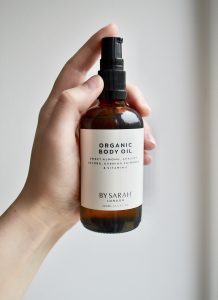 You work with your sister Lauren, what do you love most about this partnership?
BY SARAH has come from a very personal place and it's a dream come true to be able to share the skincare blends I originally formulated to help Lauren's skin with so many more people, who tell us that they feel empowered and have experienced the transformative benefits of our skincare collection. We both share the same aspirations and ambitions for BY SARAH and it's a journey I feel very lucky to be able to share with Lauren.
We're fascinated by others self care rituals! What do you do to calm things back down when everything gets a bit much?
A quick win each day is taking a moment to be mindful of your BY SARAH skincare, to appreciate the beautiful plant-based ingredients you are giving your skin and expressing gratitude towards the organic farming communities who produced these beautiful cold-pressed oils that support the health of your skin.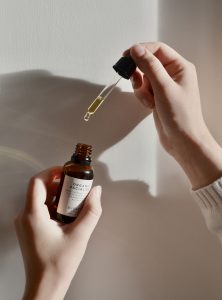 And, as a natural skincare guru, share the love and please tell us about your skincare routine?
We have a very curated skincare collection: so there are only three products that are my everyday go-tos. I remove my make-up and cleanse my skin with our Green Clay Cleansing Balm, nourish and hydrate my skin every morning and evening with the cult favourite and multi award-winning Organic Facial Oil, and enjoy a mindfully meditative evening ritual with our Rose Quartz Gua Sha! You can follow along and enjoy our how-to videos on our IGTV channel over on Instagram.
You've been over in New York recently. This sounds super exciting! What's next for By Sarah?
Lauren enjoyed an incredibly exciting trip to New York, and we're working on a number of exciting projects behind the scenes. All to be revealed in the coming weeks across our social media and via our newsletter 🙂
You can explore our skincare collection at bysarahlondon.com and follow us on social media @bysarahlondon
Thanks so much Sarah, we're so excited to see what's next. Those attending the Coco Studio yoga brunch on Sunday 9th June will take away a By Sarah facial oil sample. Literally beside ourselves. You can book on here.