Meet Emma Mills, BSc Psych, author of meditation handbook, Inhale, Exhale, Repeat published by Penguin Random House, and the mindfulness expert on the wellness board of advisors at Neom Organics.
Her work has been featured by The Telegraph, Lonely Planet, Waitrose Magazine, Psycologies, Womens Health, Cosmopolitan and Red Magazine.
Tell us a bit about your journey to working in the health & wellness industry? 
I  started studying psychology in 2004, and in 2009 having finished my formal studies, I began working with the charity MIND. I specialised in the use of literature as a therapeutic device while working at MIND and my interest in meditation was something I practiced outside of my work there. I set up Emma Mills London in order to share the fantastic modalities I had been using in my work at MIND, with a new audience.
Over the years the face of my work has changed, from politics, to psychology, through meditation and poetry and for me they are all part of the same exploration. Which is inner peace and happiness.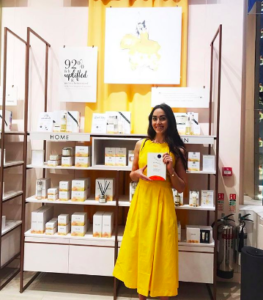 What inspired you to write your meditation handbook; Inhale, Exhale, Repeat?
I wanted to make the joy of self discovery, poetry and meditation accessible to my friends and co-workers. At the same time I wanted to show them how the insights gained within the practice sessions can be applied very practically to every day scenarios like falling in love, having a job, eating healthily, loving your self and others, sleeping and socialising.
It's not that I think meditation is a tonic to cure all ills; o'contraire! Instead, I see that every day life is the stage upon which we not only get to explore our happiness, but get to refine our ever evolving understanding of the truth of things. We're all learning.
Meditation is a very normal every day thing to do.  I love it, and I have a real spiritual and scientific interest. Yet I also love fashion, literature, art, travelling, nature, fun and friendship and whether it's at workshops or on social media I try to share my meditational work in the context of my every day usual enthusiasms, rather than as something uber exotic.
There are two lovely poems that come to mind here. The first is by Hafez and it's called 'Where great lions like to piss' and the second is 'Footnote to Howl' by Alan Ginsberg .
These poems tell us that meditation is special….but so is everything else. Hoorah! The chat at the office over lunchtime coffee. The commute. Comforting our neighbour. The dreams we have at night. The pedicure, the party and the high heeled shoe. The church service. The break up and the wedding.
"Everything is holy! everybody's holy! everywhere is holy! everyday is in eternity! Everyman's an angel!

The bum's as holy as the seraphim! the madman is holy as you my soul are holy!

The typewriter is holy the poem is holy the voice is holy the hearers are holy the ecstasy is holy!"

—Extract Ginsberg
What does 'mindfulness' mean to you? 
When I am mindful I am at one with and aware of life as it unfolds moment to moment.
Tell us a bit more about the work you do with wellbeing brand, Neom Organics? 
I've been on the wellbeing board at Neom for about 4 years now and I help them to include meditation and mindfulness expertise in their product range and service provisions. I write articles, share tips and ideas on the topic of mindfulness for their social media and product inserts and also host events.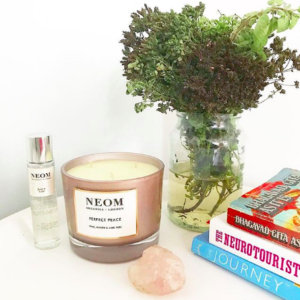 Several years ago I created and recorded a set of  exclusive guided audio meditations for Neom to use in their new wellbeing spa treatments. You can try the treatments at the Neom stores as well as within participating spas in the UK.
What benefits can people see from engaging with the work you teach?
Many previous studies have shown that meditation practice has a positive impact on cognitive and non-cognitive functioning, which are related to job performance. A 2015 study by Shiba et al indicated that meditation practice was significantly predictive of work engagement, subjective job performance and job satisfaction even after adjusting for covariates such as age, education, household income and body mass index.
Other benefits:
Better manage stress and overwhelm
Focus and concentrate for easily
Establish your own inner-centre and work creatively and effectively from that place
Feel calmer and more confident within your work
Help others relax and feel comfortable
Establish your own working wellness & self care ritual
Use environment as a mindfulness cue
Create work that feels fresh and relevant
Work with the energies & dynamics of others
Use your voice & language more mindfully
Have deeper, easier, authentic relations with others at work.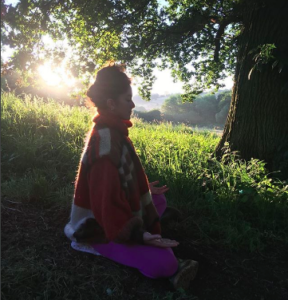 How do you incorporate mindfulness into your own working day? 
It's a learning journey that never ends. I meditate in the mornings and it adds such a great quality to my day. From there I try to set out into my working day with an attitude of embracing and discovery, not knowing exactly what I'll encounter.
For a meditation novice, where would you recommend people start? 
Start by reading a simple meditation book like 'Inhale. Exhale. Repeat' and by taking a class or short course.
If you're self starting with a book, remember to approach the whole thing  with a relaxed attitude of discovery and not to over do it time wise – two minutes is a good place to start
If you have a little spark of interest in the topic of meditation then you are already half way there. To have the interest blossoming inside you,  is a very wonderful thing.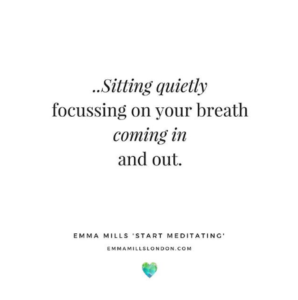 Recommended resources for building mindfulness into your working day:   
Inhale. Exhale. Repeat meditation guide book.

A small book of poems.

A journal to note down your thoughts and also any good quotes or ideas your heard.

A plant for your desk.

An inner commitment to continued learning, practicing and training.

Compassion for others and yourself.

Knowledge of how to meditate. Once you are comfortable with it, the quality it adds to your working life is invaluable. 
Emma teaches her wellness class in Southwell on Tuesday mornings.
Find out more about Emma's latest classes and workshops or find Emma on Instagram
Buy Emma's meditation handbook on Amazon
JOIN US at Dance4 Sudios with Emma on Sunday 10th March for our Yoga + Meditation event.