Voted one of Europe's hottest new start-ups by Wired UK and most recently Tech 5, we caught up with Scandinavian perfume subscription service, SNiPH.
What are your backgrounds? Did you follow an expected route into perfumery?
We both have a deep passion for scents, wellness and tech and were match-made by friends. They figured that if we met, and joined forces, we could turn that passion into something significant. They were right, ha! Now, we've made it our mission to match people with amazing scents. The best job in the world, if you ask us.
We both come from a marketing background, working for large corporations before founding Sniph. Lisa used to work with subscription based services for one of the largest media companies in Scandinavia, and I (Tara) have both worked within the beauty industry and in tech. In addition, we have both been heavily involved with empowerment issues, especially with regards to women.
We know how it is to be constantly "on" and to meet the demands of life. It can be exhausting. On a deeper level, our vision is to use our knowledge and to help people live more fulfilling lives on a day- to- day basis by activating our senses. We believe that our sense of smell is a beautiful, yet under-utilised sense.
We want to bring awareness to the power of scents, and how they can make us feel, starting with matching people with perfumes they'll love.
Our experience from respective fields has been a major inspiration for how we are building Sniph. We constantly look for ways to challenge the status quo and look for innovative ways to tackle problems – all while placing the customer experience at the center of everything we do.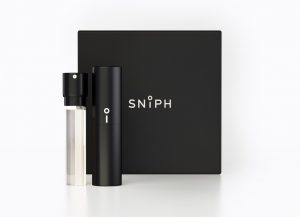 Tell us a little bit about where the inspiration came from for a subscription based perfumery service?
We've always been extremely fascinated by scents and how we're immediately affected by them. At the same time, we've shared a kind of frustration around how hard it is to find perfumes out there. You change clothes, shoes and make-up routines, but people are often stuck with one single scent for every occasion. It didn't make sense. So, fascination and frustration led to the idea of a discovery service for perfume.
Imagine Spotify playlists, but for perfume.
Based on the theme you wish to explore (for instance 'Trending Now' or 'Avant-garde') we select and curate perfumes for you to try out. Every month, we send you a new perfume to fall in love with, in a chic and air travel friendly format that fits perfectly in your handbag. Like that, we turn perfume shopping into an experience.
How does a scent evolve once on the body? What are the contributing factors?
There are (at least) two concepts that impact the performance of a specific perfume: "sillage" and "longevity". Sillage is the degree to which a perfume's fragrance lingers in the air when worn (only you can smell it OR everyone in the room?). Longevity measures how long a specific perfume stays on (30 minutes OR 30 hours?).
The % concentration of perfume oil (Parfum, Eau de Parfum, Eau de Toilette or Cologne) determines these two concepts but also the ingredients (the molecules) in the perfume. "Fatter" molecules such as Musk and Iso e Super tend to stay on longer as they do not evaporate as easily as citrus and fruity molecules.
Tell us something we're unlikely to know about perfume.
1) The perfume by the French Etat Libre d'Orange (2006) Secretions Magnifique smells of blood, saliva, sweat and sperm.
2) The Victorians ascribed tuberose, a white flower that is currently trending in the perfume world, with voluptuous and sensual characteristics; conversely, tuberose was also recognised as a funeral flower by the Victorians and speaks of death to some. It may also be considered a narcotic and potential aphrodisiac.
You launched into the UK market last year, welcome! How does the UK market differ from Scandinavia?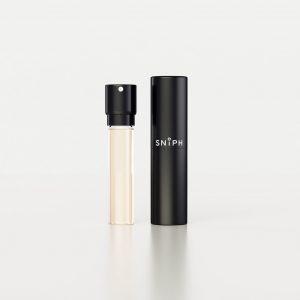 The UK market is very similar to Scandinavia which is why we chose it as our second market to enter. However it does of course have some major differences. For example the UK market is a lot bigger than Scandinavia, in terms of both consumers and brands which is probably the biggest difference between the two.
British people are also more into niche fragrances and more evolved in their fragrance usage than Swedish people, which is great for us as a service like ours can help you guys continue exploring different scents from brands and evolve even more.
What advice would you give a brand looking to expand into new markets?
As new in the market, persistence and to always over deliver on expectations is really important. This can be seen as both a challenge and as a driving force. You also need to keep in mind that culture eats strategy for breakfast, meaning that the strategy you used in your already existing markets might not be the one to use in your upcoming one. So make sure you study the markets culture closely before stepping into it.
What's the biggest challenge you've faced with Sniph?
The idea of subscription is old and also very established today but it is completely new when it comes to fragrances. People are used to buying it in a certain way and it takes a lot to get people to try something new and unheard of. Specially since it involves scents since it is hard to express and understand and of course see and touch.
So, to build trust in our brand and expertise has been very important. Today we can see that our service and high quality of products has paid off, based on a customer satisfaction reaching close to 100% in 5 star reviews and members that has been with us since start and helped us spread the word.
What do you love most about your profession?
Tara – The greatest thing about Sniph is the special aura around our company, it's like the scents we send out each month create their own magic in the world. I live and breathe scents, I use perfume to scent myself and my surroundings every day so sometimes I need to pinch myself that I get to to this for a living and that I can help empower people through my passion.
Lisa – What else would be the best part about working at Sniph if not to sniff and the possibility to spread the most amazing scents to the world.
What's next for sniph?
We're always on the hunt for new brands to include in the service. Many hours, sniffs and trips are spent on finding the best scents out there in order for our members to discover new favourites. Also, we're developing our recommendation service, based on the feedback that we get from our members. Our vision is that you'll only get perfumes that you truly love, meaning that next month's perfume always exceeds the previous. We get a lot of requests on ambience scents, such as candles and home fragrances. That's a field that we'll definitely explore further on, especially as we learn more about what scents our members can't live without!
Check out the Sniph website to find out more about the Sniph subscription service.
If you sign-up – use the Coco promo code COCOXSNIPH to receive 10% off your first monthly subscription.