Suzy is a mother of two, a Chartered Psychologist, Yoga Teacher, and Health Coach. She specialises in self-care, helping people manage their stress, emotions, and energetic bank balance. 
It was her life experience of motherhood colliding with the terminal illness of her father that sparked her passion for self-care which she now teaches to her clients, young and old, to cope during periods of stress, loss and change and to boost their resilience in the face of future challenges.
Suzy is a contributing editor for Psychologies Magazine, the Psychology Expert for wellbeing brand Neom Organics and is a founding member of the 'Nourish' app.
She figure-skated her way through her childhood, growing up on the Northern Beaches of Sydney, and now makes her home in the hills of Hertfordshire, UK.
Suzy, thanks so much for talking to us! Firstly, what is self-care, how do you define the practises associated with self-care?
We've all heard of self-care and while there has been a growing thirst for it, the concept remains a little fluffy and the practice is still illusive for many of us. Some clarity around what self-care is and practical tips on how to actually do it helps bring it to life. I'm on a mission to deepen your knowledge of self-care as a practice and to blow those barriers away…
No time, no energy, guilt? Stick with me. We will find a way!
So what does self-care actually mean? I think of self-care as health care. The simplest definition of self-care is 'nourishment' – it's a life-giving act that restores, sustains or improves your health. By health, we're not just talking about the physical body, but our emotional, energetic and mental health as well.
One of the reasons why it can be hard to define self-care is that everyone's needs, interests, preferences and goals are different, so what one person finds nourishing differs from another and even our own needs will change over time.
The most effective kind of self-care is an individual and proactive approach, a bespoke response to the needs of your head, heart and body, on a daily basis. Having a broad self-care toolkit to turn to in times of need will serve you well. 
A concept that helps bring self-care to life is to think of having an 'energy bank balance'.
Just like a car needs petrol to go, we need reserves to get us through our day. Self-care is the means by which we make a deposit into that energy bank. Take a moment to reflect – what are the things that top you up and have you feeling full of zest? How can you factor more of those into your week?
It's worth also reflecting on the things that deplete you. If there are some that you can avoid or minimise, take action. If they're unavoidable, know that you'll need to engage in some kind of nurturing act to make up for the shortfall. Proactively keep your energy bank balance healthy and you will be more resilient in the face of life's inevitable challenges.
We are so busy in life; with work, partners, children, friends, hobbies, self-care can feel like an indulgence, a luxury that we simply cannot afford ourselves.
How can we shift our mind-set so it becomes a priority? 
The key is to remember that self-care needn't be elaborate, grand, expensive or time consuming! Seek out little micro moments of nourishment and that might just have stress bouncing of your shoulders with greater ease. It can as simple as a swoosh of your favourite lippy, repeating a manta or just watching the moving cloudscape for 30 seconds. Follow along on Instragram for my #MondayMicroMoment sessions with lots of simple and accessible self-care inspiration.
Ultimately I think we need to make peace with guilt rather than trying to stamp it out. Notice when it taps you on the shoulder, greet it with a smile, remember that self-care is health care and take that nourishing action!
The mantra here is 'it's not me first, it's me AS WELL'. We have to make sure our health gets a look in too because without it, what do we have? It truly is a win win.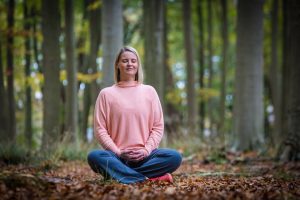 When self-care, in any form, is practised, what are the benefits we might expect to experience? 
I think it's five-fold.
Firstly, self-care helps us cope during times of trauma, stress, loss and change and no one is immune from these experiences.
Secondly, it helps us heal and recover from these challenging times.
Thirdly, self-care keeps us energetically topped up, so that we are resilient and resourceful when curveballs hit. Remember, positive events can be seriously depleting too – planning a wedding, holiday, renovation project, moving, scoring a promotion, having children…
Fourthly, self-care gives us access to our best self. Lovingly tending to yourself with self-care gives you the best possible chance of being the person you aspire to be.
Lastly, for parents and those nurturing children, self-care helps us raise resilient and compassionate kids. We need to be modelling self-care for them and teaching them their own self-care toolkit. Even better, engage in collective self-care and boost health, happiness and wellbeing together.
It's so exciting that self-care and wellness practise seems to be trending, that it's a popular topic of conversation; this can only lead to positive change for many people.
However, with a lot of content available how can people cut through the noise and create their own action plan? What are your top 3 tips?
1. Before we can wholeheartedly commit to the self-care habit, we need to get clear on our personal WHY. It's your WHY that will galvanise you when temptation arises or life gets challenging. If nourishing your health is important to you, take a moment to reflect on the following questions. 
Describe yourself when you are well-nourished and energetically topped up. What does this facilitate in your life? What does this allow you to do or be?
Describe yourself when you are depleted, empty or fatigued. How does this affect your life and the people in it?
Write out a few statements of why you personally want to commit to taking better care of yourself – for you and anyone your life touches.
2. In my experience, when we need self-care the most, it can be really hard to put your finger on something nurturing! For this reason, I created a framework to help us identify some kind of available tonic when we are feeling frazzled, fatigued and full up. I call this the 'Vitality Wheel' (see below) and it has 8 spokes each reflecting a different way we can top up our energy bank.
Use these categories to get thinking more broadly about what self-care means for you and you can read more about practices that will bring to life each spoke of the Vitality Wheel in my book 'The Self-Care Revolution'. Even better, annotate the wheel so you have options at a glance.
3. If you want to really unlock the power of self-care then forming your own list of self-care PRIMER STATEMENTS is the way to go.
Spend some time writing out your commitments in the form of 'If I am feeling X, then I will Y'. These are powerful ways of priming your brain for more life-giving choices. The more time you spend with this, the stronger your self-care muscle becomes and the greater the dividends. 
Working within self-care how do you make sure that you continue to 'practise what you preach' when it's also your work? 
I've learnt the hard way what happens when self-care drops away and I never want to repeat that experience of energetic bankruptcy!
My depletion serves no one and if I can't do it for myself I have to do it for those in my care – my family and my clients. Self-care is the practice that allows me to keep giving and keep going.
I have honed my self-care toolkit and using the Vitality Wheel I can find something nourishing in ANY moment now and I dot these skills and tonics through my day. I also want to be authentic in my work so I am deeply motivated to 'walk my talk'.
It can be particularly challenging for parents trying to balance everything, do you have any specific advice for parents who desperately want to live more mindfully, whilst also spinning all the other 'life' plates? 
Parents, I hear you! Self-care needn't be a solo pursuit, taking yourself off somewhere else to do something special. There are lots of ways we can imbue everyday life with a little tenderness, and even better, engage in it with your kids!
Music – pop on some tunes to lift the spirit or classical to soothe.
Move your Body – the quickest way to change your mind is to move your body. A single yoga pose will do or head out in Nature's Beauty together and blow out the cobwebs.
Scent – transform your mood in an instant by using scent – room sprays, candles, pillow spray. My kids love my Neom Organics stash as much as I do.
Breathe – when you breathe better, you feel better. Take some mountain breaths together. Stand tall like a mountain, arms down by your sides. As you breathe in, take your arms out wide to the side, reach them up overhead and look up. As you breathe out, lower your arms back down by your sides and look forwards. 6 reps and it'll change how you all feel and you'll have a giggle together in the process.
Savour together – this is my all-time favourite self-care tip! Savouring is the ability to suck the life out of a pleasurable moment. So when something joyful is unfolding, give it your full attention, with all your senses and share it! You can savour the past too by reminiscing about a happy memory or you can savour the future by happily anticipating something you have to look forward to. Your kids will love building the savouring muscle with you and it is such a powerful mood alchemist!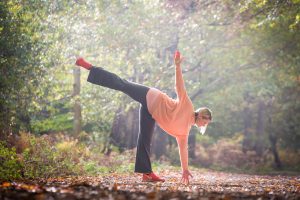 You've worked with Neom, we LOVE Neom, what's your favourite Neom product and what is it you love about it? 
My personal favourites are their hand balms for self-care on the go but the pillow spray needs an honourable mention for promoting better sleep all round.
There's a saying 'a Sunday well spent brings a week of content' – puts a lot of pressure on Sunday! Do you agree with this and what do Sundays look like for you?
Stress occurs on a daily basis so we need self-care daily. If you prefer to invest chunks of time then what might work is making an appointment with you. Alternatively you can take the micro moment approach and just use your quick tonics through your day as and when you need them.
We need an individual approach to self-care so do what works for you.
My Sundays tend to involve Nature, cuddles and cooking with the family.
Finally, what are you most excited for in 2019? 
I am so excited to be sharing two new books in 2019! 'Stand Tall Like a Mountain: Mindfulness & Self-Care for Children and Parents' will be out on April 4, 2019, with lots of ways to get family self-care on the radar and boost our children's mental health. It is shortly followed by 'The Little Book of Self-Care' on July 2nd with 30 new soothing practices.
The self-care revolution is firmly in place!
Suzy's first book 'The Self-Care Revolution' published by Aster, is out now, available on Amazon.
You can join Suzy's Wellbeing Community at: 
Instagram: www.instagram.com/suzyreading/
Facebook: www.facebook.com/SuzyReadingPsychologyAndYoga/
Twitter: https://twitter.com/SuzyReading