It's a fascinating story and perhaps fate at play that Nix & Kix founders Julia and Kerstin bumped into each other not once but twice on planes! Sometimes you have to take the path the universe lays out in front of you…and the fiery, award winning, soft drinks company Nix & Kix was born. We grabbed the opportunity to catch up with Julia and Kerstin to find out a little more.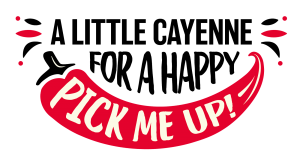 Tell us a little bit more about this twice in-flight encounter – where were you flying into London from and how did you get to talking about your shared passion for spicy cayenne?
Julia: London to us was one of the most fascinating cities in the world, which is known for loads of different experiences, in food, in drinks, as well but we were moving to the UK to study and never left. Well Kerstin never left, I left and then came back and we coincidentally met again when we  were more grown up. We were both working on our careers, we were very business minded but already had the drive to do something a bit different.
Kerstin: We genuinely have a passion for exciting flavour profiles and we were trying out new food and drinks but at the same time we always watched what we were eating and drinking and tried to not consume too much sugar or products with artificial flavourings.
That's always been the case since we've known each other. Spice is an aspect of how you can overcome that as it adds some excitement back into food and drinks.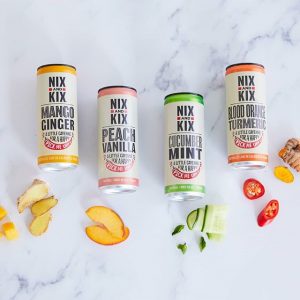 You're reshaping the soft drinks market. Not drinking no longer has to mean a night fuelled by sugary fizzy pop – Nix&Kix is a more interesting, grown up offering.
What was the driving force behind wanting to develop a product in this space?  
Julia: Really why we created it at the time was because whenever we went out with the purpose of not drinking, we ended up drinking, something like, say, white wine spritzer, simply because, for us it was healthier than any of the options available.
When you don't want to drink you don't want to have something like cranberry juice, you want something which is still cool and exciting. We were determined to find a non-alcoholic alternative that was healthy but still excited the taste buds.
How did you go about turning your idea for a beverage with bite into an actual product range?
Kerstin: Initially we were just testing lots of different flavour profiles but cayenne resonated with most of the consumers because of the health benefits and sophisticated flavour profile.
Julia: Yeah and then we then took a start-up loan and we invested that into our first MVP and sold that at the London Coffee Festival and sold out in the first day!
Tell us a little bit about the health benefits of cayenne?
Kerstin: Cayenne helps to boost your metabolism and has also been proven to increase endorphin levels in the body, which is the hormone that makes you feel happy so cayenne provides you with that feel-good pick-me-up.
That's how we came to our #cayennehappy tagline!
What is the biggest challenge you've encountered so far on the Nix&Kix journey?
Julia: So many (laughs)
One would be trying to get distribution.
Once you get distribution you need somebody to make it and the biggest challenge is growth, it's all the pain associated with growth. 
Kerstin: 100% and you must be very persistent and resilient.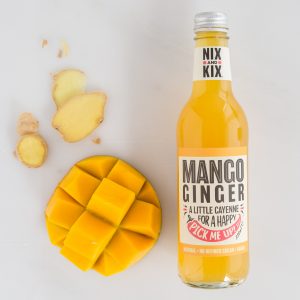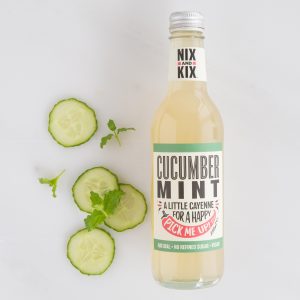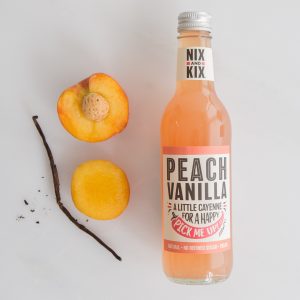 What are you most proud of, in terms of your accomplishments with Nix & Kix to date?
Julia: I think it's seeing all those consumers proactively pick up our drinks and share it. We have some amazing listings and I'm proud of that we have some customers who listed us from day 1 and they're still our customers to this day and that's incredible.
But nothing beats somebody proactively reaching out and sharing their love and passion for the brand. 
Kerstin: Yes, seeing someone we don't know drinking a can of Nix & Kix in a cafe or restaurant we're stocked in is always really rewarding.
I remember asking Julia before an investment pitch how many units do you think we've sold?
Julia: Yeah and over the last 2 years we sold 1.6 million units. It's crazy because at the beginning you try to convince everyone to buy it, your friends, your family but now I'm like we can't convince 1 million people so there must be a million people who enjoy the product.
What three tips would you share with someone aspiring to start their own business?
Kerstin: For a food or drinks product, make sure it tastes great. If the packaging is impressive a consumer might pick up the product once but if it doesn't taste better than the other options available, they would never pick it up again.
Julia: Don't do it (laughs)
Test and learn and think through the business model early on because I see so many entrepreneurs who have a cool idea, but they never thought about the commercials – if they can make it a viable product. It's one thing if you make jam at home but another when you want to scale it up.
Find great partners in your supply chain because you really rely on them and then be resilient but most importantly have fun. 
What's next for Nix&Kix, where would you like to see your brand in 5 years time?
Julia: World domination…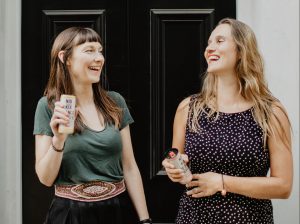 Kerstin: That's the goal (laughs)
Julia: Wouldn't it be amazing if we could say were in 70% of the overall distribution in the UK, so we're pretty much available everywhere and people know us. 
You walk down a street in Birmingham or Southampton and you see someone drinking a Nix and Kix and they know us. That would be pretty cool.
---
Thanks so much for telling us a bit more about the Nix&Kix story, we're so excited to see more options in the non-alcholic beverage space and can't wait to see what's next.
Visit Nix&Kix to learn more about the products, or follow them on Instagram.
Courtesy of Nix&Kix, you can sample your own can at our Coco Yoga + Meditation event, 10th March at Dance4 Studios, Nottingham.