JUNE – YOGA & WELLNESS RETREAT
THE NEW FOREST, HAMPSHIRE
FRIDAY 12TH JUNE – SUNDAY 14TH (2 NIGHTS)
Join us on our UK weekend escape to the magical surroundings of the New Forest, Hampshire.
We will relax, unwind, restore, get creative, learn and have a lot of fun!
Our morning classes will take place outdoors and our evening classes in the beautiful newly converted yoga barn.
The Farm, practicing sustainable farming, is a traditional Hampshire mixed farm with a resident herd of over 30 Shorthorn cattle, arable crops and ancient woodland.
              Situated between Winchester, Salisbury and Southampton and on the edge of the spectacular New Forest, our residence for the weekend is just a 1 hour 40 minute drive from London and 3hrs from Nottingham.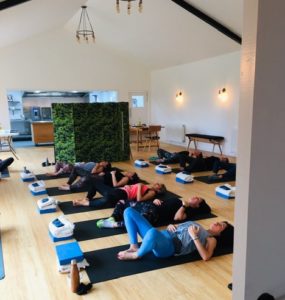 ---
INCLUDES:
2 night luxury accommodation in newly converted barns on a beautiful farm in the New Forest, or take the glamping option in luxury safari tents, ideal for groups.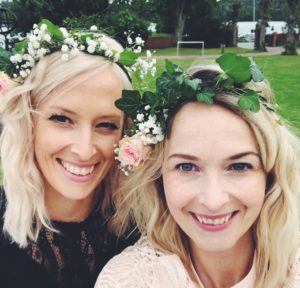 VINYASA & YIN YOGA CLASSES
guided by Sally & Kat
Energising and grounding vinyasa flow class – helping you move through a sequence of movements while focusing on breath, fluidity and alignment.
Yin yoga & meditation, accessing our 'rest, digest and heal' through longer holds, followed by chakra meditation to find balance and stillness in mind & body.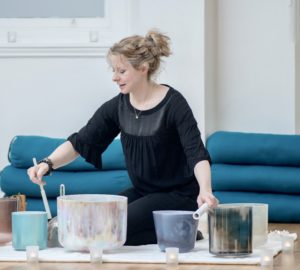 ALCHEMY CRYSTAL SOUND JOURNEY
guided by Sound Therapist Julia Scott-Russell
Sink into a deeper level of consciousness as you relax into the soothing sounds of a crystal healing sound bath. Julia is a therapeutic sound specialist who works with individuals and global organisations to help promote the unique benefits of Crystal Sound Therapy. In Julia's Halcyon Sounds crystal sound sessions, she uses the word renowned Alchemy Crystal Bowls.
They are prestige hand-forged instruments comprising the finest quality quartz (99.992% pure), and infused with gemstones and precious metals, such as 24ct gold and platinum giving extraordinary resonance.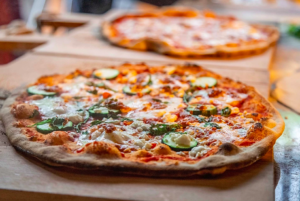 WOOD FIRED PIZZA MAKING
Enjoy the tastes of your own wood-fired pizza, made with locally sourced and sustainable produce.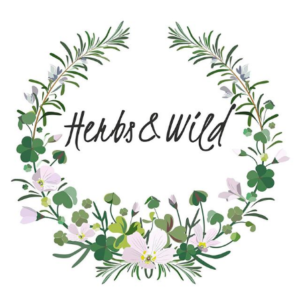 DELICIOUS VEGETARIAN MENU by Herbs & Wild
Using locally sourced and sustainable produce, prepared by Hannah from Herbs & Wild
All meals included.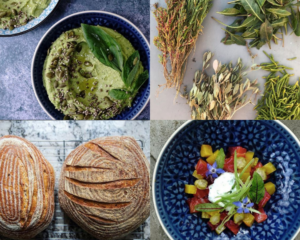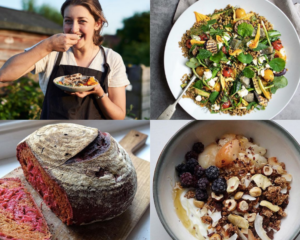 ---
THE COCO RETREAT SCHEDULE
*Please note that this is subject to change, but will give you a good idea of what to expect.*
FRIDAY – ARRIVAL DAY
2pm onwards: Check-in
Drinks & snacks on arrival
Free time explore the woodland, relax and soak up the surroundings
6-7:15pm: Yin yoga & guided chakra meditation with Kat
7:30pm: Welcome dinner
SATURDAY
8am: Hot drinks & pre-yoga snacks
9am – 10am: Energising vinyasa flow with Sally
10:30: Wholesome brunch spread
11:30am: Free time to explore the woodland, relax and soak up the surroundings
2pm: Afternoon snacks
5:30-7pm: Gentle yoga flow – followed by Halcyon Sounds crystal sounds with Julia
7.30pm: Evening meal
Make your own pizza and cook in the wood-fired Pizza oven on the farm while enjoying a glass of Friday fizz or sampling the local homemade kombucha!
SUNDAY
8am: Hot drinks & pre-yoga snacks
9-10.15am: Grounding vinyasa flow with Sally
10.30am: Wholesome brunch spread
2pm: Check out
---
THE HAY BARN 
3 bedrooms, 3 bathrooms – sleeps 8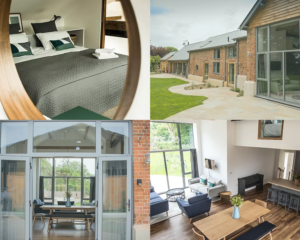 ROOM 1 – BOOKED 
ROOM 2 – ONLY 4 SPACES LEFT
2x Single Beds, 1x Bunk Bed, Shower Room – Sleeps 4
x2 Single bed: £435pp 
x2 Single bed – bunk: £425pp 
ROOM 3 – BOOKED
---
THE CART SHED
2 bedrooms, 2 bathrooms – sleeps 4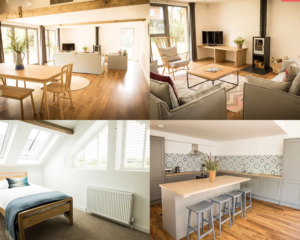 ROOM 1 – BOOKED
ROOM 2 – BOOKED
---
GLAMPING – SAFARI TENTS
TENTS ARE FULLY BOOKED
(from £250pp)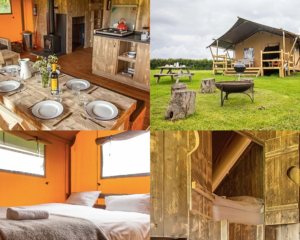 The tents open onto the living, dining and kitchen area, where a wood-fired stove keeps the space lovely and warm in the chillier months.
Each tent is fitted with an internal bathroom; a hot water shower, normal flushing loo and basin.
A fire pit for huddling round on tree stumps, toasting marshmallows is positioned outside, and a sizeable front deck with adirondack chairs complete each tent, perfect for taking in the scenic views.
---
30% non-refundable deposit to book
Final balance due – 1st MARCH 2020
To reserve your place, email sally@cococollective.co.uk or use the below contact form.